It must be because it is Friday and there is not much else to report.
Anyhow, some idiot did the following:
At Rep. Paul Broun's town hall meeting on Tuesday, the Athens congressman asked who had driven the farthest to be there and let the winner ask the first question.

We couldn't hear the question in the back of the packed Oglethorpe County Commission chamber, but whatever it was, it got a big laugh. According to an outraged commenter on the article, the question was, when is someone going to shoot Obama?

I've asked Team Broun whether that was indeed the question and haven't gotten an answer. The commenter accurately described the questioner and the circumstances, and no one has disputed his account.

Update: Broun's press secretary, Jessica Morris, confirmed that the question was indeed, who is going to shoot Obama? "Obviously, the question was inappropriate, so Congressman Broun moved on," she said.

Here was Broun's response:

The thing is, I know there's a lot of frustration with this president. We're going to have an election next year. Hopefully, we'll elect somebody that's going to be a conservative, limited-government president that will take a smaller, who will sign a bill to repeal and replace Obamacare.

He then segued into Republicans' budget proposal.
Dumb? Yes. Illegal? Possibly.
The left, predictably, is going, um, "Ape Shit" over it. Perfect example, Oliver Willis: (H/T The Right Sphere)
All Americans should condemn assassination speech, but especially if you're a member of congress. What an epic shame. What a blight these people are on our government.
Um, Mr. Willis, Where were you, when these people were walking around with signs like this? (H/T NewsBusters)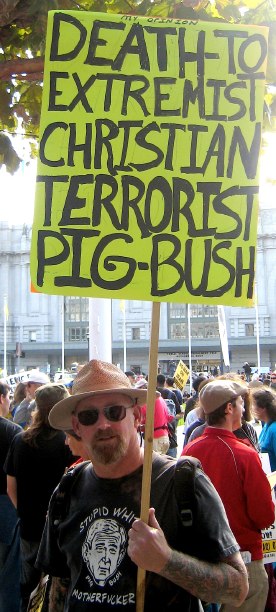 Where were you Oliver, when these things was being paraded in the streets?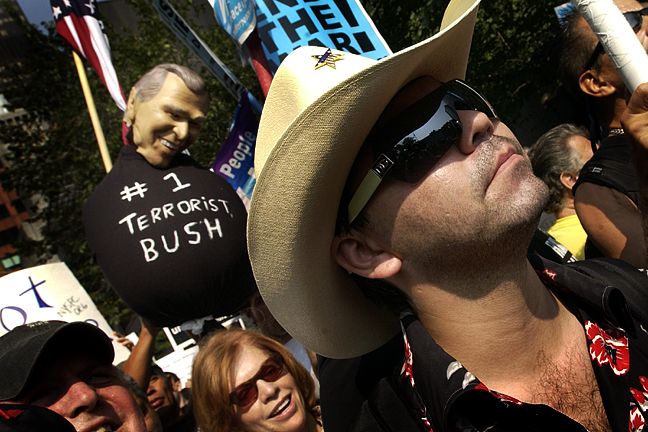 Oh, I know where you were Mr. Willis; you were out there helping CARRYING these signs and things around, weren't you?
How is it, when a White Conservative Republican is in the White House and liberals threaten to kill him —- it is perfectly fine. But you let a socialist Negro in the damned White House and just because someone dares to verbalize what many in the silent majority are thinking; that is some sort of a fucking federal crime? Tell me that! By the way, I call him a socialist Negro, because that is what the hell he is, I do not believe in Political Correctness on this blog. I call it like I see it.
By the way, Mr. Willis and rest of idiot liberals; you can breath a little easier:
UPDATE, 11:50 a.m.: In a new statement Rep Paul Broun appears to admit he should have condemned his constituent:

Tuesday night at a town hall meeting in Oglethorpe County, Georgia an elderly man asked the abhorrent question, "Who's going to shoot Obama?" I was stunned by the question and chose not to dignify it with a response; therefore, at that moment I moved on to the next person with a question. After the event, my office took action with the appropriate authorities.

I deeply regret that this incident happened at all. Furthermore, I condemn all statements — made in sincerity or jest — that threaten or suggest the use of violence against the President of the United States or any other public official. Such rhetoric cannot and will not be tolerated.

*****************************************************************

(****)

"In this case this was poor taste," the source says. "The person realized that."

Now there's the small matter of whether Broun regrets not condemning the comment. My understanding is more will be forthcoming from his office on this soon, so stay tuned.
Happy now crybabies?
Anyhow, yeah, it was stupid; I will admit that, but where was all of that outrage, when the liberals were wanting Bush dead? Fucking hypocrites, the damned whole lot of them. 😡
Note: I just noticed the silly typo in the headline. Hug ordeal? Good Lord.
I fixed it.