First off all, let me say, that I get this part here:
New Delhi: The White House will, of course, stay in Washington but the heart of the famous building will move to India when President Barack Obama lands in Mumbai on Saturday.

Communications set-up and nuclear button and majority of the White House staff will be in India accompanying the President on this three-day visit that will cover Mumbai and Delhi.

He will also be protected by a fleet of 34 warships, including an aircraft carrier, which will patrol the sea lanes off the Mumbai coast during his two-day stay there beginning Saturday. The measure has been taken as Mumbai attack in 2008 took place from the sea.

Arrangements have been put in place for emergency evacuation, if needed.

Obama is expected to fly by a helicopter — Marine One — from the city airport to the Indian Navy's helibase INS Shikra at Colaba in south Mumbai.

Two jets, armed with advanced communication and security systems, and a fleet of over 40 cars will be part of Obama's convoy.

Around 800 rooms have been booked for the President and his entourage in Taj Hotel and Hyatt.

The President will have a security ring of American elite Secret Service, which are tasked to guard the President, along with National Security Guards (NSG) and personnel from central paramilitary forces and local police in Mumbai and Delhi.

Similar arrangements will be in place in Delhi, with the Air Force One to be kept in all readiness throughout Obama's stay here from Sunday afternoon to Tuesday morning.

Maurya Hotel, where the President will stay, has already been swarmed by American security personnel and protective measures have been put in place.

Security drills have already been carried out at the hotel as well as Rajghat, where he will visit.

Sources said 13 heavy-lift aircraft with high-tech equipment, three helicopters and 500 US security personnel have arrived in India ahead of Obama's visit.

The US security has also brought interception and obstruction device, sniffer dogs, rescue gadgets.

Apart from Obama's Air Force One, a few private luxury jets carrying top American corporate leaders, who are part of Obama's entourage, are also expected to arrive in India in the next 2-3 days.

All high-rise buildings in the vicinity of Mumbai's Taj Mahal hotel and Delhi's Maurya Sheraton hotel, where the US President will stay, are being sanitised and security personnel will be positioned on rooftops to prevent any air-borne attack.

The Ridge area – opposite Delhi's Maurya Sheraton hotel – has been illuminated by floodlights as part of the heightened security drill.
Okay, let me say this; I get this part here totally. Barack Obama is the President of the United States and it was just a few years ago that Mumbai had a horrible terrorist attack in that Country, so, unlike some of the Conservatives out there. I will not be whining about keeping our President safe.
However, I do believe this here is a just a wee bit much:
Officials in the Indian city of Mumbai (Bombay) have taken extraordinary measures to protect US President Barack Obama ahead of his visit.

In their effort to provide maximum security in the run-up to his visit on Friday, they have removed coconuts which may fall on his head from trees.

All coconuts around the city's Gandhi museum have now been cut down, an official told the BBC.

Every year in India people are injured or even killed by falling coconuts.

'Why take a chance?'

Mani Bhavan, where Mahatma Gandhi stayed during his freedom struggle against the British, is among five places the US president is visiting apart from a school, college and hotels attacked by Islamic militants in 2008.

"We told the authorities to remove the dry coconuts from trees near the building. Why take a chance?" Mani Bhavan's executive secretary, Meghshyam Ajgaonkar, told the BBC.
Must….resist….urge….to….make….bad…joke….must….try….to…..show….restraint…..
I mean, seriously people! What is next? Round up all the chimpanzees, monkeys and apes in the area? For fear someone might be offended? Yeeesh.
What will be really funny, is if the President asks for a Coconut….to eat.
Hell, if they really wanted to save a bunch of money. They could have just gotten the man a hardhat. President Obama already has experience wearing those: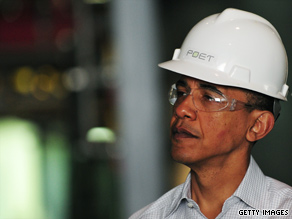 Others: theblogprof, srael Matzav, theblogprof, Weasel Zippers, JammieWearingFool, JOSHUAPUNDIT, The Jawa Report, Pundit & Pundette and Don Surber
Update: I thought something stunk to high heaven about that warship story! See here (Thanks to AllahPundit)